At Siller Chiropractic, we are committed to helping you find better health, naturally. Call today. Nobody can replace you, and nothing can replace your body. We'd like to help you keep the one you've got.
Offering:
Gentle, specific adjustments
Covered by most insurance's, including Medicare
Auto injuries accepted
DMV & Sports physicals
Military & Senior discounts
Affordable payment plans
On-site digital x-rays taken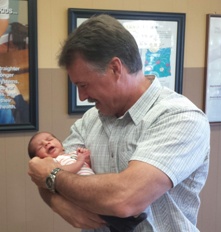 Dr. James M. Siller has a great passion in helping others reach their fullest potential through Chiropractic. Dr. Siller is a 2nd generation Yuba City resident and a graduate of Yuba City High School and Yuba College. He attended Palmer College of Chiropractic in 1988, because of its unmatched reputation and the strong emphasis on the natural Chiropractic philosophy. After graduating in 1991, he worked locally before opening his own practice in 1993. He continues his education regularly by attending country wide seminars. In 2009, Dr. Siller traveled to the island of Tobago on a mission trip, educating patients on the innate intelligence and wisdom of the human body to heal itself. Dr. Siller is licensed to practice Chiropractic by the National Board of Chiropractic Examiners, the State Board of Chiropractic Examiners; he is affiliated with the California Chiropractic Association and the International Chiropractic Association.
Dr Siller,
There is an innate intelligence present in every person which allows us to heal cuts, mend broken bones, and turn food which we consume into useful energy. It does all this as well as keeping our body in homeostasis; free from disease; without any thought or input from outside the body. And yet, at the first sign of any symptoms we we mask the problem with drugs such as aspirin, muscle relaxants, and other drugs. The only thing this does is allow the problem to advance to further stages.......................more >>